SALVADOR DE ALBA JR. SET TO TEST ANDRETTI AUTOSPORT INDY LIGHTS CAR AT MID-OHIO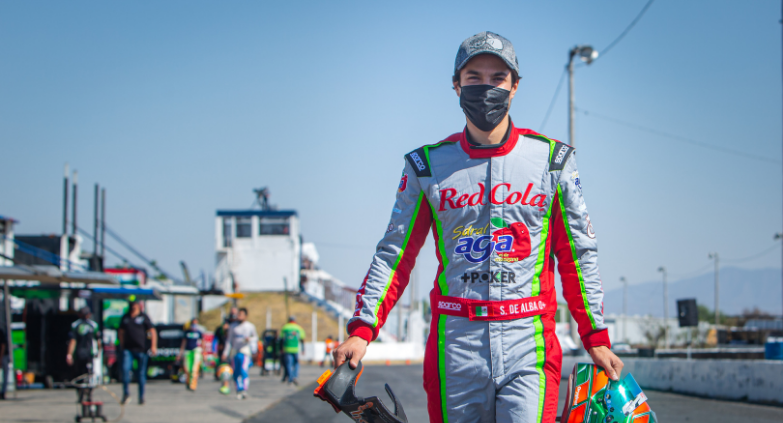 06.30.21
—
Andretti Autosport announced today that Salvador de Alba Jr. will get his first taste of the Road to Indy with an Indy Lights test at Mid-Ohio Sports Car Course on July 6. Born out of the newly formed partnership between Michael Andretti and Michel Jourdain, in addition to fielding an entry in the Mexican Super Copa Championship, the Andretti Jourdain Autosport initiative has set out to further expand Andretti's commitment to driver development. The Mid-Ohio test for de Alba Jr. reflects that commitment by fostering young Mexican racing talent working to reach the Road to Indy and eventually the NTT INDYCAR SERIES.
"For me, it's a dream come true to drive this Indy Lights car with a legendary team like Andretti," said de Alba Jr. "I'm truly grateful and motivated to do my best. Driving an Indy Lights car for the very first time is a big step for me. I'll try to adapt myself quickly and learn as much as possible. I'll have the support of my friend Michel Jourdain, who is behind this project. I want to thank Michel, GRUPO INDI, MECANO, Sidral AGA and all those involved who trust me in this project. I'll do my very best."
De Alba Jr. began his racing career in karting in the late 2000s before transitioning most recently to the NASCAR Peak Mexico Championship and the Super Copa Championship. The 20-year-old from Guadalajara currently sits atop the championship standings in both series and is fresh off a win in the Super Copa Championship at San Luis Potosí.
"I'm really happy to offer the opportunity of an Indy Lights test to Salvador," said Michael Andretti. "Through our partnership, Michel has brought Salvador to our attention and we have been following his career. He is a promising, young talent and we look forward to helping him grow and hopefully seeing him in the Road to Indy program soon."
"This is a great opportunity for Salvador, I have known him and raced with him for the past five years," said Michel Jourdain, team principal of Andretti Jourdain Autosport. "I know he has all the talent necessary to succeed in the INDYCAR ladder. This is also the first step in achieving some of the goals Michael and I want to have from the partnership in the Andretti Jourdain Autosport union in Mexico. I hope that this will grow into more testing and the goal of having Salvador do a full season in Indy Lights. It's very important to thank GRUPO INDI, MECANO and Sidral AGA for the help on making this happen and the Andretti Autosport organization for giving Salvador this great opportunity."